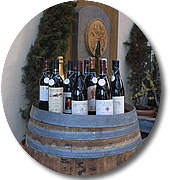 Welcome to the Winslow Wine Shop and Tasting Room. Our goal is to search the world over and bring a verity of fine wines at an affordable price to our customers.

We pride ourselves in our experience, broad knowledge and the relationships we have with wineries and wine brokers. This is what gives us the inside edge on locating exceptional wines and values.

We have a verity of wines for you to taste and we will be happy to work with you on choosing appropriate wines and Champagne for your weddings and events. We also work with some of the local dining establishments on special dinner events such as
Sweet & Savory.