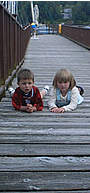 Docks are good for all sorts of things besides just walking on and traveling from the shore to a boat. Docks are a vantage point from which to enjoy a sunset or sunrise. Docks are a place to meet someone. Docks are a place to watch fish, birds, crustatians, and neutabranks.
But one of the more useful things is a PARTY
So dust off your lei and sandles you've had in the closet all winter and come on down. The "Doc" is in.
| | |
| --- | --- |
| | Here is a typical setting, a few people, a few tables and benches and usually a barbecue. |
| | |
| | This particular one had a blind dingy race. If you have never seen a blind dingy race it is a little like teaching your spouse how to drive for the first time blind folded. |
| | Here is the guest of honor, a pig roast. |
| | Being a Northwest Pig he wasn't quite use to the bright sun, hense the sun glasses. |
| | It all comes down to a fun evening and a slice of Island life. |