Here on Bainbridge Island we have a harbor called Port Madison. It has the distinction of hosting North America's largest collection of 6 meter sail boats (Puget Sound area). They sail out of the Port Madison Yacht Club. It is a fine and well cared for collection of classic 6m boats. I crew on Hanko and I will tell you a little about that boat and some of the others later.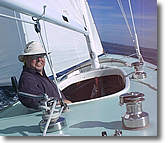 See you on the water - Dave

You can visit the North American Six Meter site for more information at this address:
www.6mRNorthAmerica.com

Photo Gallery of this years 2002 Lipton Cup

The Lipton Cup is sponsored by the Seattle Yacht Club and they provide the committee boat and run a well organized race every year. Our thanks to them for this event. The gallery is a collection of photos taken during and after the race. We were blessed with a visit this year from Olin Stephens (94 years old), one of the foremost Six Meter designers in the world. A fine meal prepared by Chef Rick and a great group of sailors and boats to race with.

When you enter the galley, use the navigation bar at the top of the page to move between the thumbnail galleries and the enlarged pictures (you'll get the hang of it). Reprints of these photos are available at Madison Avenue Photo here on Bainbridge Island just for the cost of the processing and for non commercial use only. They have the negatives and the proof sheets to order from. Some of the photos on the web site have been cropped and digitally altered for the web site. If you are from out of town or can't get to the photo store drop me an email and I will try and help.
Dave

Back to the"Marine Project Center"