---
You've seen 'em. All dressed in black, standing on the corner as you get off the Ferry. They're THE


Here's what they stand for.
---
---
FERRY SCHEDULE
Ferry Schedule
Big changes in the new schedule
(get your refrigerator copy here).
Also the difference between Islanders & Commuters
---


The imprisonment of Japanese Americans from the Island during WWII.
Nidoto Nai Yoni


---


A few thoughts on "The Ways of Men" and a little on the subject of leadership.
---
NEW STUFF - Feb.2, A comment on the world we have created and what we are becoming, globally and locally.
---
FEATURED BUSINESSES
---
Esthers Fabrics Esthers Fabrics has EXPANDED - BIG TIME and the May/June classes schedules are out.
---

Ocean Tuna Just in from sea. Fresh tuna for a limited time.

Paul Eberharter
Fine Architecture and design.

John Steiner
Quality craftsman and cabinetmaker.

Four Seasons Home Maintenance
For the odd repair and project around the house or business..

Service Technician - Steve Blackledge
for your marine repair and maintenance.


JUST FOR FUN
The Green Computer Guy
Useful tips on how to better use your old computer.

Bears on Bainbridge?
Every now and then rumors surface about bears here on the Rock. Now we have proof..

---
FEATURED COMMUNITY SITES


THE BOAT YARD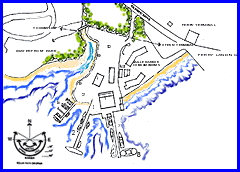 Back in 1999 there was a little movement in DOT and Olympia to move the Ferry Maintenance Yard to Bremerton (or another location) for political and economic reasons. To give that idea a kick in the ribs I and a few friends launched this concept as an idea "who's time had come". It became another reason for the State to move the yard.
I-695 killed the move but not until we got the juices flowing. Guess what? Its back on the burner and wait till I tell you about the interest we generated the first time around. This is not a Bainbridge Island project.

This is the
JEWEL OF PUGET SOUND
---

NEW - A VISUAL TOUR OF THE TALL SHIP REGATTA IN PUGET SOUND.
Reprints are available locally.

---

HERE IT IS
Best of Bainbridge Cookbook

An assembly of recipes by locals you know. Courtesy of the kids of Montessori School.
Great Christmas gift
---


2002 Lipton Cup,
6 Meter boat race here in Port Madison
(A photo essay from inside the race)


---

WOODWARD SCHOOL CULTURAL FAIR
This is one of the better parts of our community, cultural diversity.


---

Conversation Cafe
Welcome to one of the newest groups to spring up on the Island.
---
NEW - Bainbridge Rowing Club


What kind of Island would we be with out a rowing club?
---

The Virtual Port of Bainbridge
The waters of the Island and those who serve and play on them.

---

The Marge Williams Center Opens


A community office center for Island organizations.

Bainbridge Island Public Library
A walk through their gardens.
Richie Observatory
for heavenly views.
Fly Fisher Folk of Bainbridge Unite!
Catch the reel happenings here.

---
THINGS FOR VISITORS

Comprehensive Dining Guide
Where the Island eats out.




VISITOR INFORMATION
---
On the Subject of Parking in Downtown Winslow
---
ISLAND LIFE


You Don't Know Jack
Test your knowledge of the Island and local happenings, and dispel a few rumors about who is sleeping with whom.